The base of the Cyberpunk 2077 world is all about body modification in the form of Cyberware. These upgrades can make your character even more powerful with increased abilities, better statistics, and even more armor than normal clothes can give you. There are 20 slots in total for various Cyberware items that fit in different slots on your character's body.
Related: Games You Should Play If You Love The Cyberpunk Franchise
No matter what build you decide to go with, there is going to be at least one piece of Cyberware to level up your gang-killing game. This list will help you narrow your choices down to the very best that Night City's Ripperdocs can offer.
10

Heal-On-Kill (Frontal Cortex Slot)

This Cyberware upgrade is pretty basic but is still extremely powerful. Heal-On-Kill does what its name suggests. It instantly restores 10% health every time you defeat an enemy. This modification is great for high-reflex builds that specialize in melee and close-range combat. This will come in handy for tackling the new Phantom Liberty expansion that comes out later this year.

It won't completely substitute the need for manual healing, so make sure that you are still stocked up on MaxDoc and Bounce Back medical inhalers. You can purchase Heal-On-Kill from various Ripperdocs in Night City, but the Legendary variant can be bought from Cassius Ryder in Northside.
9

Pain Editor (Immune System Slot)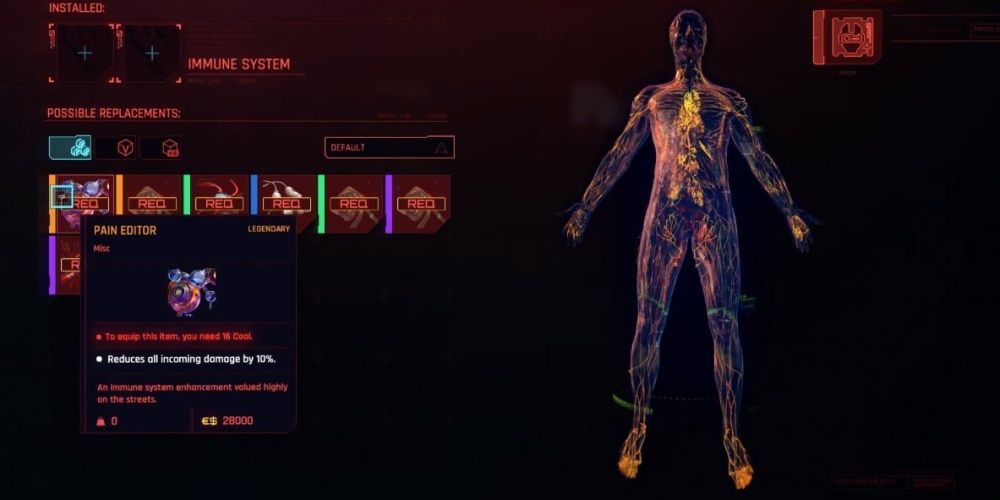 This is an extremely useful Cyberware upgrade that can easily be made inaccessible to you if you make a wrong decision. The Pain Editor simply reduces all damage you receive by 10%. No matter if it is from fall damage, gunshots, burning, or car accidents. This is very handy when stacked with other armor mods as well as a high amount of armor from clothes.
There is only one variant of this mod in the game, and it can only be purchased from a character you meet in a side job. The Legendary Pain Editor can only be purchased from Fingers in Japantown. You immediately lose the ability to buy this mod if you punch or kill Fingers during "The Space In Between" side job.
8

Optical Camo (Integumentary System Slot)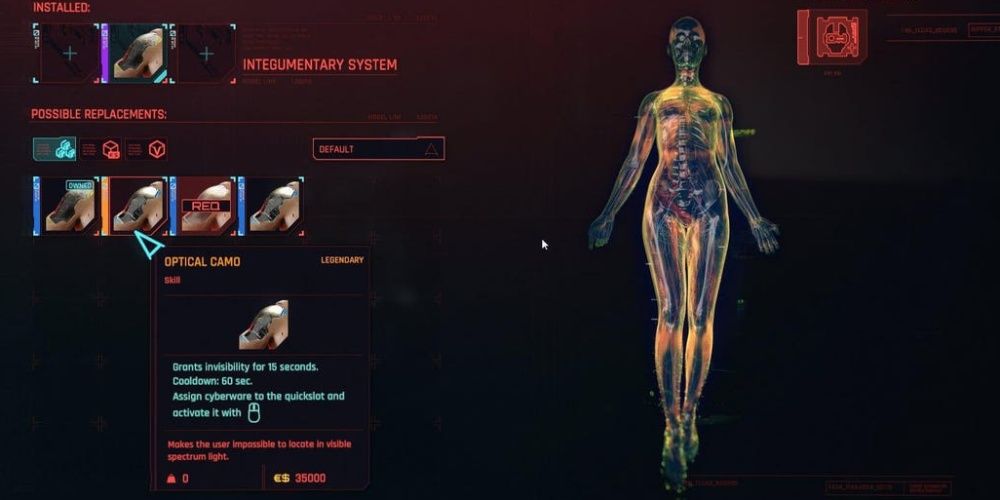 This is a great Cyberware mod for those who like to play the game with a more stealthy approach. The Optical camouflage mod simply makes you turn almost invisible for 15 seconds, with a cooldown of 45 seconds.
This was glitched until fairly recently, and you wouldn't be completely invisible. That has since been patched and is now working correctly. The legendary variant of this mod can be purchased from the Ripperdoc, Octavio, in Rancho Coronado.
7

Synaptic Signal Optimizer (Skeleton Slot)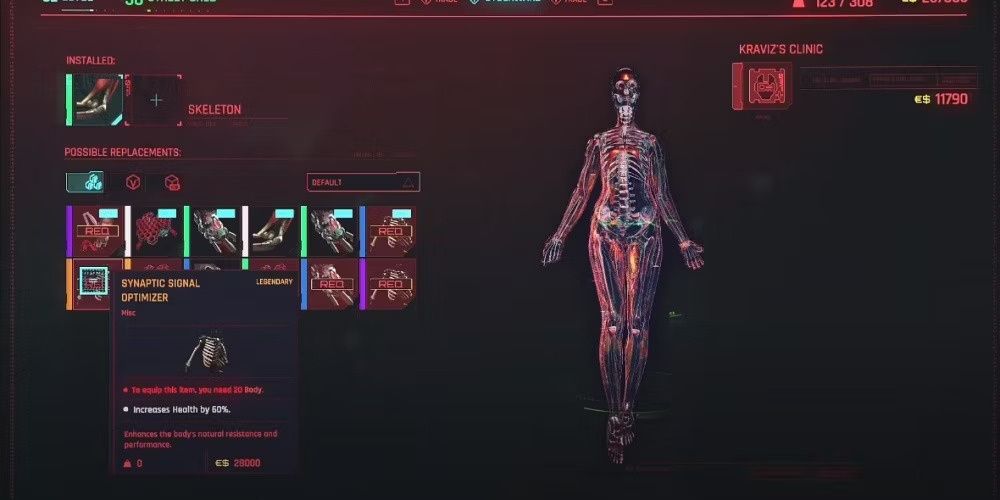 This is a fantastic Cyberware mod that will fit well with any character build. The Synaptic Signal Optimizer simply increases your maximum health by 60% with the legendary variant. It also requires 20 points in the body stat to be equipped.
Related: How Long Does It Take To Beat Cyberpunk 2077?
This mod also fits extremely well with any other Cyberware that increases health or health regeneration, such as Heal-On-Kill. You can purchase this Cyberware from Nina Kraviz in Charter Hill.
6

Gorilla Arms (Arms Slot)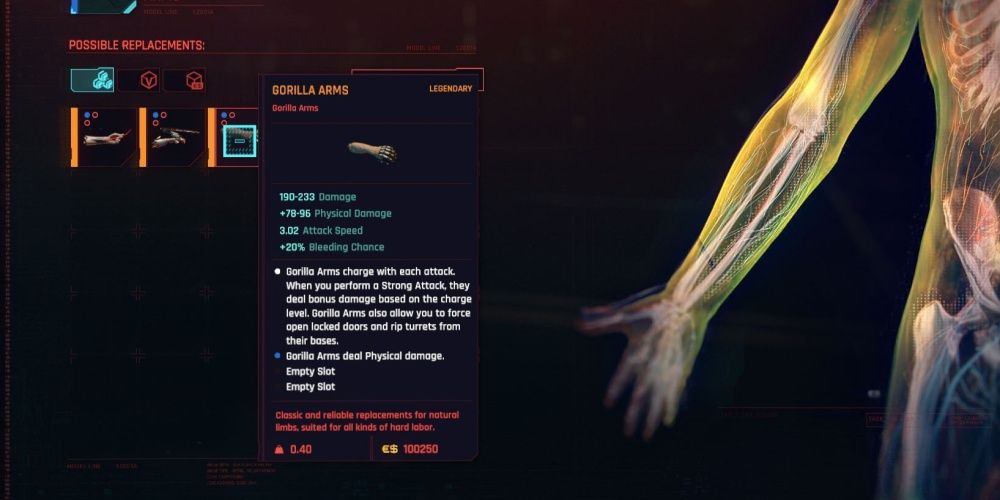 The Gorilla Arms are one of the game-changing Cyberware arm mods that you can use. These arms are all about punching and unarmed damage. They gain three damage per point that you put into the Body stat. They are also affected by any perks in the Street Brawler tree. Perfect for starting a fight in any of Night City's clubs and bars.
The legendary Gorilla Arms variant also adds six points to any Body attribute checks such as dismantling turrets, opening doors, and hijacking cars. There is also a 20% chance to apply whatever status effect is on the arms to any enemy you hit with them. The legendary Gorilla Arms can be purchased from the Ripperdoc in Wellsprings.
5

Reinforced Tendons (Legs Slot)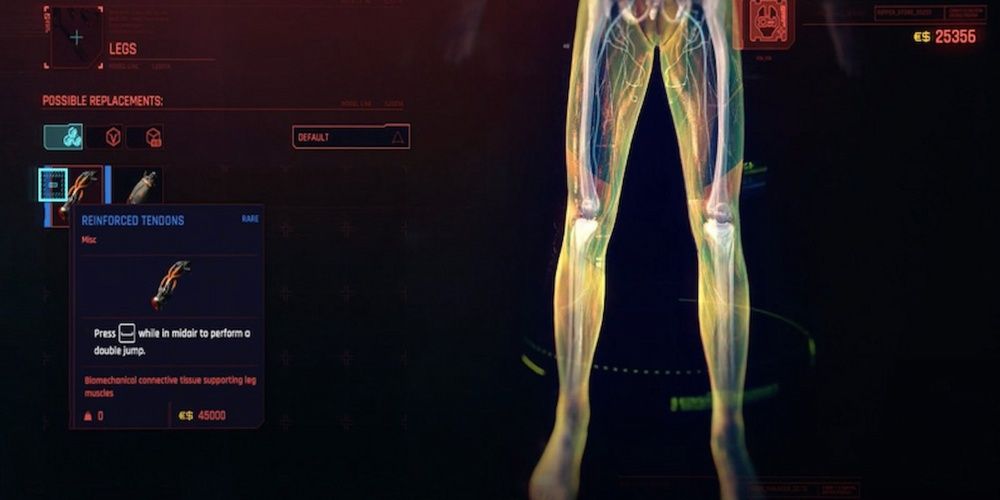 This is one of the must-have Cyberware mods that any build can use effectively. Reinforced Tendons are a leg mod that simply allows you to double jump! This is incredibly useful for navigating Night City as well as fighting enemies during melee combat.
These can be compared to Fortified Ankles, which allow you to hold the jump button and charge for one big jump. The Reinforced Tendons only exist as a rare variant and can be purchased from Viktor Vektor in Little China without a Street Cred requirement.
4

Smart Link (Hands Slot)
This Hands Slot cyberware mod is necessary for anyone who wants to specialize in using Smart Weapons. The legendary variant of the Smart Link makes smart weapons have a 15% higher chance to hit targets, as well as a 20% increase in critical damage with smart weapons.
Related: Best Open-World RPGs Of All Time, Ranked
You will also be 100% more effective with smart weapons while using the Smart Link cyberware. Both the Epic and Legendary variants can be purchased from Viktor Vektor in Little China.
3

Netwatch Netdriver Mk. 5 (Operating System Slot)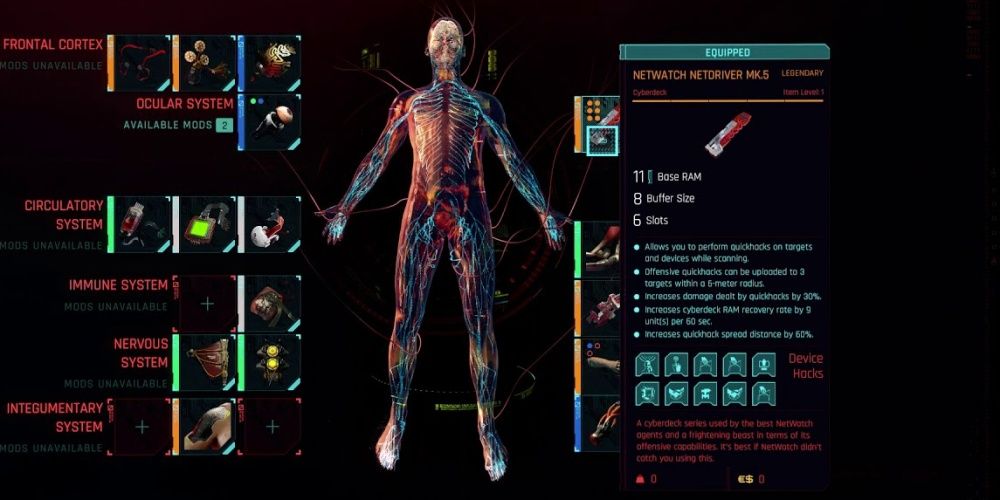 This is the ultimate operating system for you if you like using offensive quickhacks and hitting multiple enemies at the same time. Especially if you'd like to be a netrunner like Lucy in the anime, Cyberpunk: Edgerunners. The Netwatch Netdriver has a Base RAM of 11 and a Buffer Size of 8.
Its main abilities are to increase damage dealt by quickhacks by 30%, and increases cyberdeck RAM recovery rate by 9 units per minute. Quickhacks can also be uploaded to three units within a 6-meter radius, and their spread distance is also increased by 60%. This beast can only be purchased from the Ripperdoc in Wellsprings.
2

Dynalar Sandevistan Mk. 4 (Operating System Slot)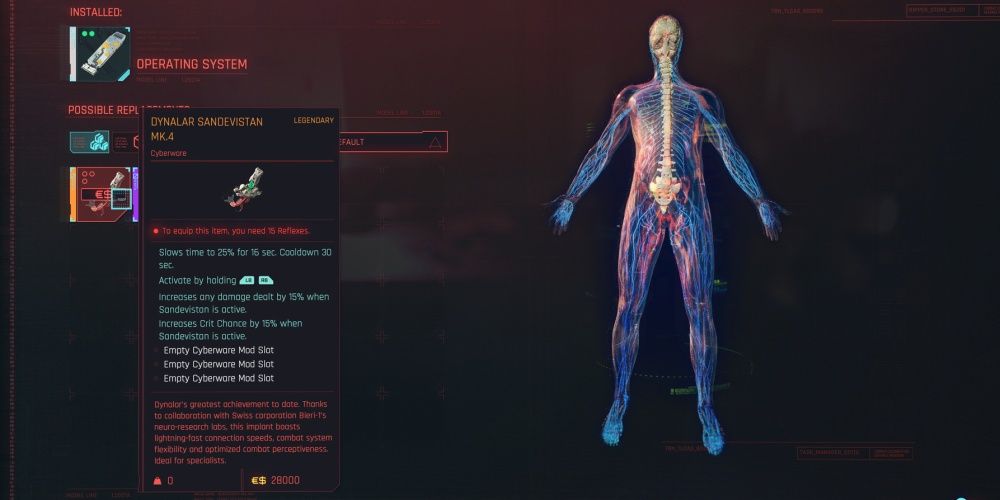 This is the alternative to the last entry for players who are more active in combat and specialize in melee and standard weapon combat. The Dynalar Sandevistan Mk. 4 will fit in the operating system slot and will allow you to slow time to 25% for 16 seconds. It increases your damage while it is active by 15% and critical damage by 15% as well.
It also has three on board mod slots to add even more damage improvements. The Sandevistan Mk. 4 also requires you to have 15 points in Reflexes to use. It can be purchased from Viktor Vektor in Little China.
1

Mantis Blades (Arms Slot)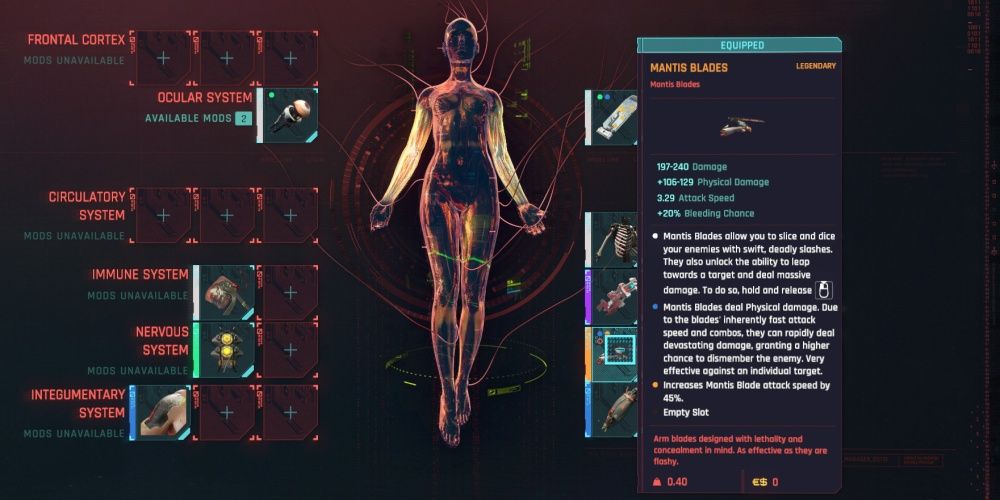 The absolute best and most iconic Cyberware in the game has to be the Mantis Blades. The blades come out of your arms and allow you to slice and dice your enemies with ease. You can even lunge at targets by holding down the attack button. There is also a unique kill animation with this attack.
With the legendary variant, there is an added 20% chance to apply whatever damage type is applied to the Mantis Blades. These absolute units can be purchased from the Ripperdoc in Wellsprings.
Next: Cyberpunk 2077: Best Weapons, Ranked
Denial of responsibility!
Gamers Greade is an automatic aggregator of the all world's media. In each content, the hyperlink to the primary source is specified. All trademarks belong to their rightful owners, all materials to their authors. If you are the owner of the content and do not want us to publish your materials, please contact us by email –
[email protected]
. The content will be deleted within 24 hours.