Posted in: Comics, Comics Publishers, Current News, Marvel Comics, X-Men | Tagged: christos gage, greg land, Original X-Men, separated at birth, Swipe File
---
Original X-Men #1, by Christos Gage and Greg Land, stars the original five X-Men across the multiverse for the X-Men's 60th anniversary.
---
AIPT has got the PR scoop on a new one-shot coming from Marvel Comics in December, Original X-Men #1, written by Christos Gage and drawn by Greg Land, starring the original five X-Men across the multiverse for the X-Men's 60th anniversary.
ORIGINAL X-MEN #1
Written by Christos Gage
Art by Greg Land
Cover by Ryan Stegman
THE OG 5 ON AN ALL-NEW ADVENTURE! Cyclops, Marvel Girl, Beast, Iceman and Angel – the first and greatest heroes to bear the X-Men name – once traveled into their own futures and reset the course of history. Now another multiversal mystery calls them forth. When the dust settles, one hero will remain, trapped in the world as we know it. With shocking surprise guests and heart-pounding twists and turns, Christos Gage and Greg Land kick off a story that will shake the whole MU!
Christos explains it as "Essentially, the original X-Men are plucked from their era by an older Jean Grey, a.k.a. Phoenix, from a different timeline. This is a middle-aged Jean Grey who wasn't replaced by the Phoenix Force; instead, she found a way to coexist peacefully with it. But now she's become aware of a deadly danger on another Earth in the multiverse… a problem even the Phoenix can't solve. Only the original X-Men can. Why? Because the problem IS them. On this world, the original X-Men grew up and took over the world, amassing tremendous power… so much that they'll soon be turning their attention to other realities. Old Lady Phoenix chose these particular original X-Men because they have already been to their future and met their adult selves (in the All-New X-Men series that began in 2012) so they have some experience with this sort of thing. It's up to them to find a way to either convince their older selves that they're making a horrible mistake or somehow defeat these far more powerful versions of them. Basically, it's about your younger, idealistic self coming into conflict with your older, jaded self who's made compromises and given up dreams in order to survive and do what they think is best, even if that means making hard choices along the way…. there's a question of why the adult original X-Men have gotten to this point. Is it just a case of people's values changing as they get older, like the hippie turned hedge fund manager? Or is there something more nefarious afoot?"… there are definite ramifications beyond the one-shot. The story will continue. However, it's kind of intentionally vague. I'm not promising it's one of the original five X-Men… if they even survive this adventure… though I'm not saying it's not! And that might be better phrased, "larger ramifications for the Marvel MULTIVERSE"…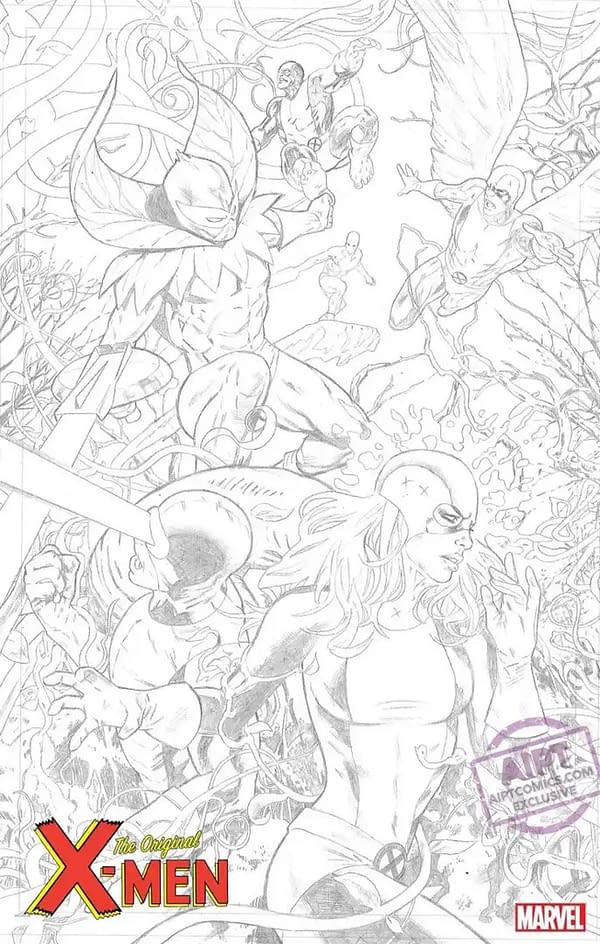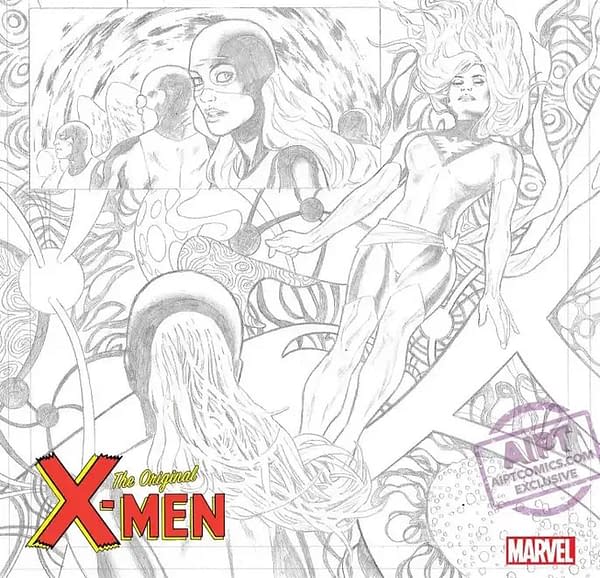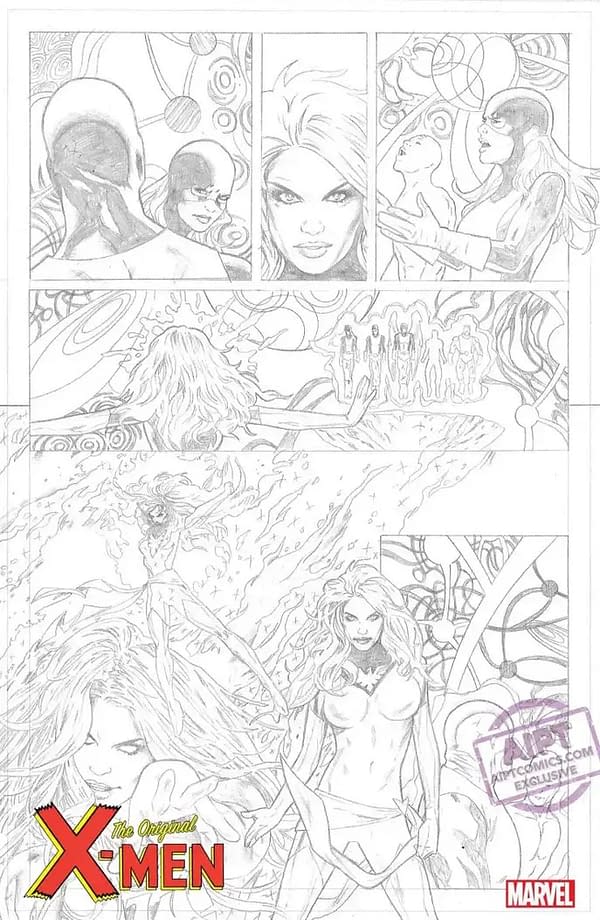 And maybe a self-swipe file for Greg Land for the bottom left corner of that page… from Phoenix Endsong back in 2000, also by Greg Land.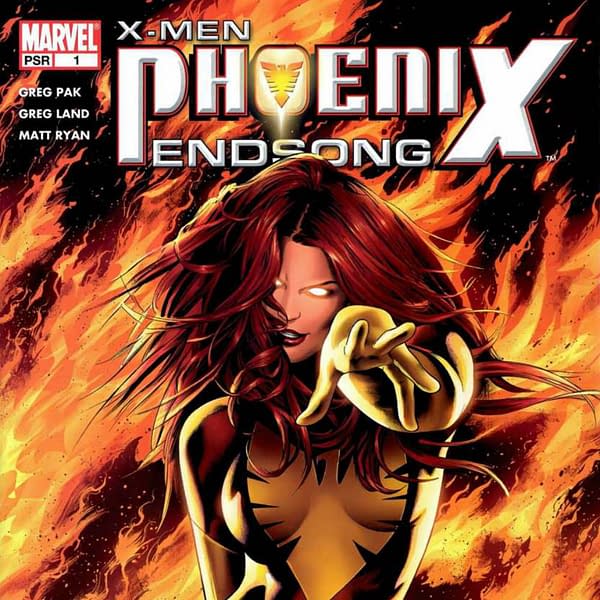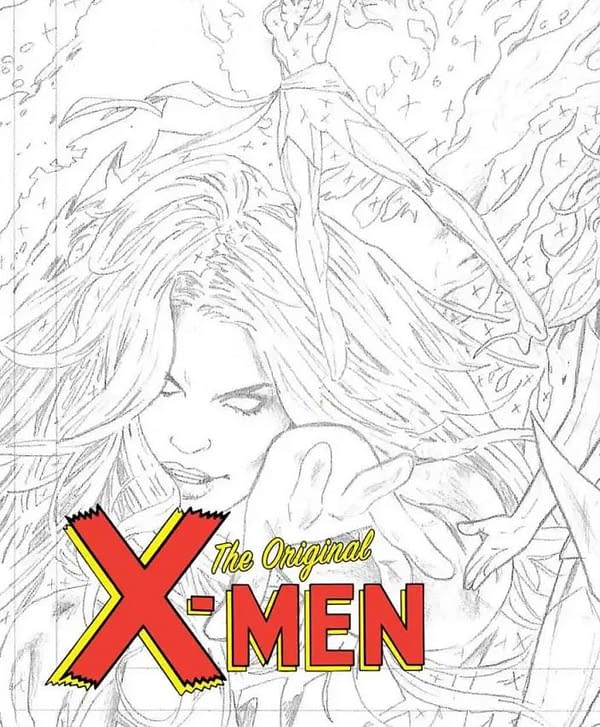 Separated At Birth used to be called Swipe File, in which we present two or more images that resemble each other to some degree. They may be homages, parodies, ironic appropriations, coincidences, or works of the lightbox. We trust you, the reader, to make that judgment yourself. If you are unable to do so, we ask that you please return your eyes to their maker before any further damage is done. Separated At Borth doesn't judge; it is interested more in the process of creation, how work influences other work, how new work comes from old, and sometimes how the same ideas emerge simultaneously as if their time has just come. The Swipe File was named after the advertising industry habit where writers and artists collect images and lines they admire to inspire them in their work. It was swiped from the Comic Journal, who originally ran a similar column and the now-defunct Swipe Of The Week website, but Separated At Birth is considered a less antagonistic title.
---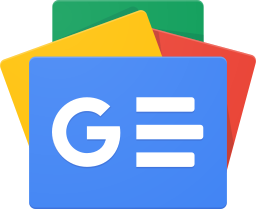 Stay up-to-date and support the site by following Bleeding Cool on Google News today!
Denial of responsibility!
Gamers Greade is an automatic aggregator of the all world's media. In each content, the hyperlink to the primary source is specified. All trademarks belong to their rightful owners, all materials to their authors. If you are the owner of the content and do not want us to publish your materials, please contact us by email –
[email protected]
. The content will be deleted within 24 hours.