Creature comforts get a tough rap for being base, but sometimes they're just what you need. In anime, these "comforts" come in many shapes and forms, some harmless, and some quite harmful (See: Tokyo Ghoul or Devilman Crybaby), but it's these desires that drag—or propel—characters to very human levels. On that note, I can't think of anything more relatable than food, drink, and warm company.
Chainsaw Man is an excellent anime for a plethora of reasons. We could talk all day about its memorable characters, MAPPA studio's superb use of state-of-the-art animation, or creator Tatsuki Fujimoto's deft exposition and story building skills. All good stuff, but there are other more commonplace forces at work. To me, it's the sweet banal milk of human nature that permeates the first season, even more so than the high-octane fights and demon battles.
There's something so surreally comforting to me about mouth-watering meals portrayed in anime. One of my favorite shows to watch (and re-watch) is Wakako-zake, in which the lead gal seeks out a new spot each night to drain a beer and grab some grub, all within an incredibly fleeting 5 minutes. It's wonderful, but A.) too quick, and B.) not nearly subtle enough. In Chainsaw Man, MAPPA studios takes up this task with gusto and utmost seriousness.
Whether it's a homemade cappuccino, bowl of gas station udon or a seemingly mundane peanut butter and jelly sandwich, each frame is captured in such exquisite delectable detail that it begs to be consumed off of the screen. But this realistic quality may not be just for the audience's sake, but meant to satisfy our heroes as well.
RELATED: Chainsaw Man Chapter 122 Release Date And Time
All the main characters are hungry, literally and metaphorically. Some long for power or revenge, some lust for human blood, but each member eventually is forced to ingest something tangible, which is a win-win for us and our guys on-screen.
MAPPA not only understands that mealtime is one of the few moments where Special Division 4 can finally let their hair down and have some normalcy, but the studio also manages to truly capture the bliss that comes with a hearty feast.
While dining, the characters happily chow down, maybe with light conversation or even silence in the background, but the camera lingers on the succulent spread, giving you time to take in the shiny gloss of teriyaki chicken or steam rising from the rice. In fact, the only thing more visually satisfying in Chainsaw Man besides the food is its liquid accompaniment.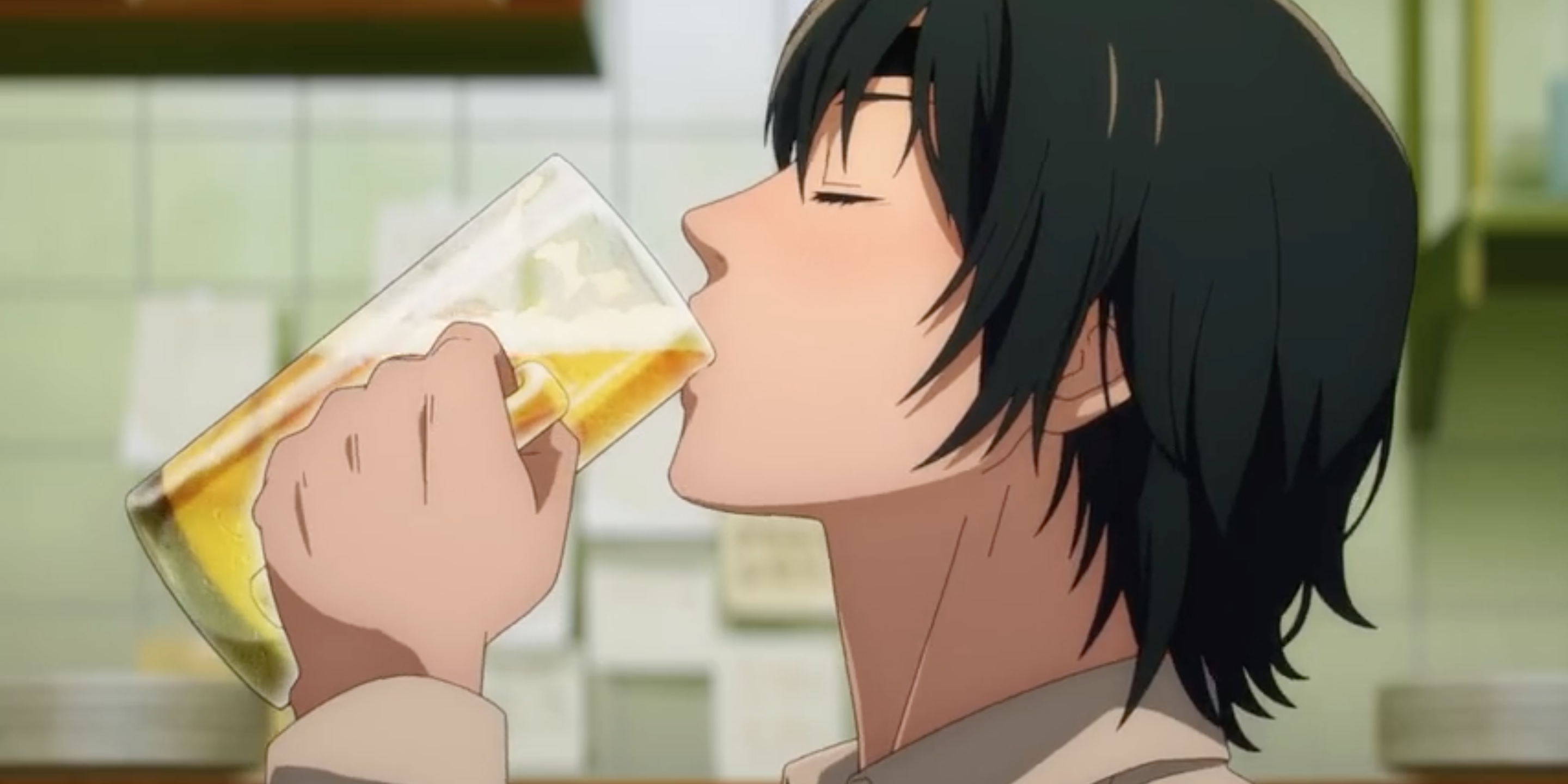 Episode 7 was my favorite of the entire series. Denji's elongated battle and eventual victory against the Eternity Devil earns him and the team a buffet dinner at a prestigious restaurant.
Literally all 20 minutes of it are dedicated to the staff eating, guzzling down frothy mugs of beer and hooking up. I've never been thirstier. Despite Denji's underage status, his senpai show no restraint in making it a night to remember (or forget), especially the entrancing one-eyed lush Himeno. Now here's a girl who lives life to the fullest.
Before the fight with the Eternity Devil, Himeno is introduced as part of the Public Safety team with a checkered past and penchant for those thin white cancer sticks. This lady smokes like a 1940s Hollywood star, and even manages to get her partner—and major crush—hooked on her smokey vice. But she's more than just a pin-up pirate with a bad habit.
Himeno offers Denji his first kiss (with tongue) should he vanquish the Eternity Devil. Not one to welch on a promise, Himeno gets nice and loose drink after drink, until, inebriated, she ultimately delivers the goods, which—and I won't spoil it here—isn't as awesome as advertised. However, regardless of the failed kiss, Kenji winds up going home with her anyway. And here we come to our final comfort.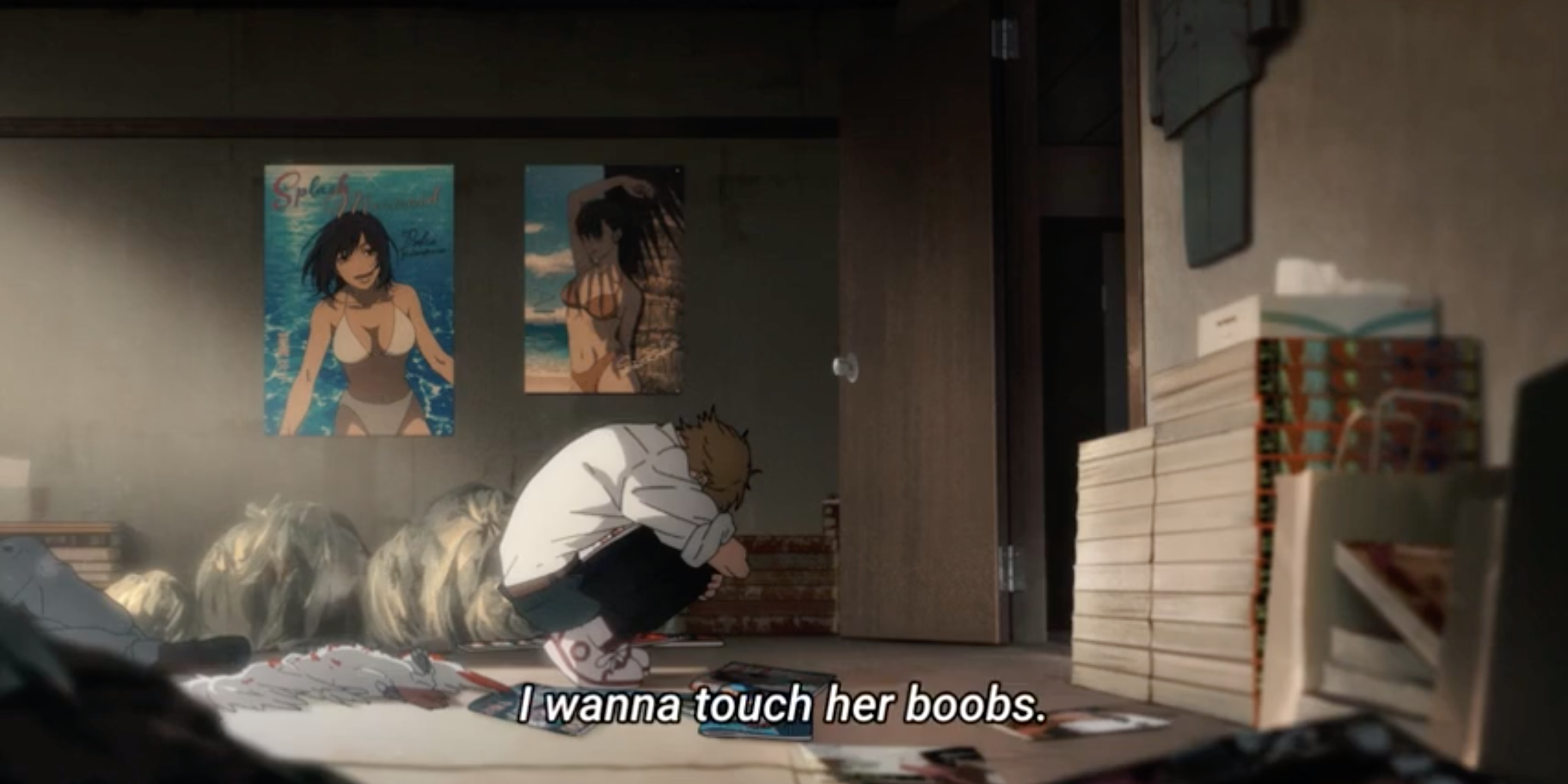 Chainsaw Man is quite the horny affair. Maybe it's hormones due to a closeness with death, or the sheer loneliness that pervades a devil-filled Tokyo, but, in all probability, it may be because a 16-year-old street urchin is the show's main lead. Despite being pathetically lovable, Denji is no boy scout.
A certain part of the female body becomes an obsession from square one. Apart from filling his stomach with food, Denji's secondary priority is to fondle the breasts of every female in his life, from his mysterious boss Makima, to his Fiend partner Power and his first kiss Himeno. He clings so tightly to this perv creed that it eventually becomes more like a running joke, considering the rising stakes of the show.
ALSO READ:Romancelvania Shows The Witcher How To Do 'Horny' Properly
Funnily enough, his plans don't seem to exceed past the breast fondling, which echoes sentiments of like-minded 16-year-old hetero males without a clue about the fairer sex. Except that kind of thinking is never going to be a problem for our eponymous Chainsaw Man. Other than boobs and food, what else could there be?, Denji may wonder. Interesting question.
Our time on this Earth is short and a 9-5 day for a devil hunter is hard enough on its own. Who are we to judge a few harmless creature comforts (especially when they look so good)? Moreover, the inclusion of life's finer things amidst a barrage of serious subject matter gives season 1 a welcomed lightness and relatability not found in other anime within the same genre.
The show's message is simple: life can be rough, so find some happiness wherever you can. On that note, please, Special Division 4, eat, drink and be merry today, for tomorrow you may actually die.
NEXT: Chainsaw Man: 10 Fights We Want To See In The Anime Series
Denial of responsibility!
Gamers Greade is an automatic aggregator of the all world's media. In each content, the hyperlink to the primary source is specified. All trademarks belong to their rightful owners, all materials to their authors. If you are the owner of the content and do not want us to publish your materials, please contact us by email –
[email protected]
. The content will be deleted within 24 hours.