I confess to not having heard of Exoprimal before I was showered with codes to try the game's online beta. Capcom's manic mech-based dino-blasting online shooter is set in a strange and sterile world that looks like it was pulled out of an early 2000s rail shooter arcade cabinet. It's really got that distinctly Japanese 'Sega around the Millennium' kind of feel, for better and for worse.
Not that Exoprimal is a rail shooter; it's in fact a third-person PvPvE shooter, and technically has more in common with Overwatch 2 and Earth Defence Force (thanks, Jack Coleman) than it does with Time Crisis or the Jurassic Park Arcade Game. Two teams of five face off against each other in mini-mech-suit combat, with seemingly endless waves of dinosaurs being teleported in from God-knows-where to spice things up.
And man, there are a lot of those dinosaurs. Velociraptors charge you down in insectile swarms, while hundreds of pterodactyls whirl around you in giant dervishes. Bigger boss-like dinos such as the Triceratops and of course the T-Rex made an appearance, as well as some rather more elaborately named ones that may or may not be based on real dinosaurs (I'm pretty sure that at school I was never taught about the kamikaze dinosaurs with explosive gas sacs on their backs).
RELATED: Half-Life For PlayStation 2 Is Terrible, Here's Why
You engage in combat via a number of different 'exosuits,' ranging from the rhino-like Roadblock, who can summon a giant force-shield to keep the dino hordes (and enemy players) at bay, to a dual-pistol-wielding rollerskater called Nimbus, the melee-focused ninja Murasama, and dedicated healer 'Witchdoctor.'
Each suit feels very distinct to play as, wielding several cooldown-based abilities, but the most interesting thing about them is the fact that you can switch between them mid-match. It's not a seamless switch however, and I discovered the hard way that when you select a new suit, you'll spend a good several moments running around like a regular human chump without an exosuit while the next one readies itself up for you. While I can't say I really got into the flow of dynamically switching up suits mid-fight, I appreciate that flexibility and think it's got potential to create some cool highlight-reel plays.
So mech suits and dinosaurs–so far, so strange already. But things get really weird in the game's main multiplayer mode, Dino Survival. This entails you and another team racing around a PvE map, trying to complete objectives faster than the other team. This would seem like a great opportunity for PvPvE shenanigans, but in fact both teams basically exist in parallel dimensions, racing through the same objectives, but only seeing 'ghosts' of the other team doing those same objectives.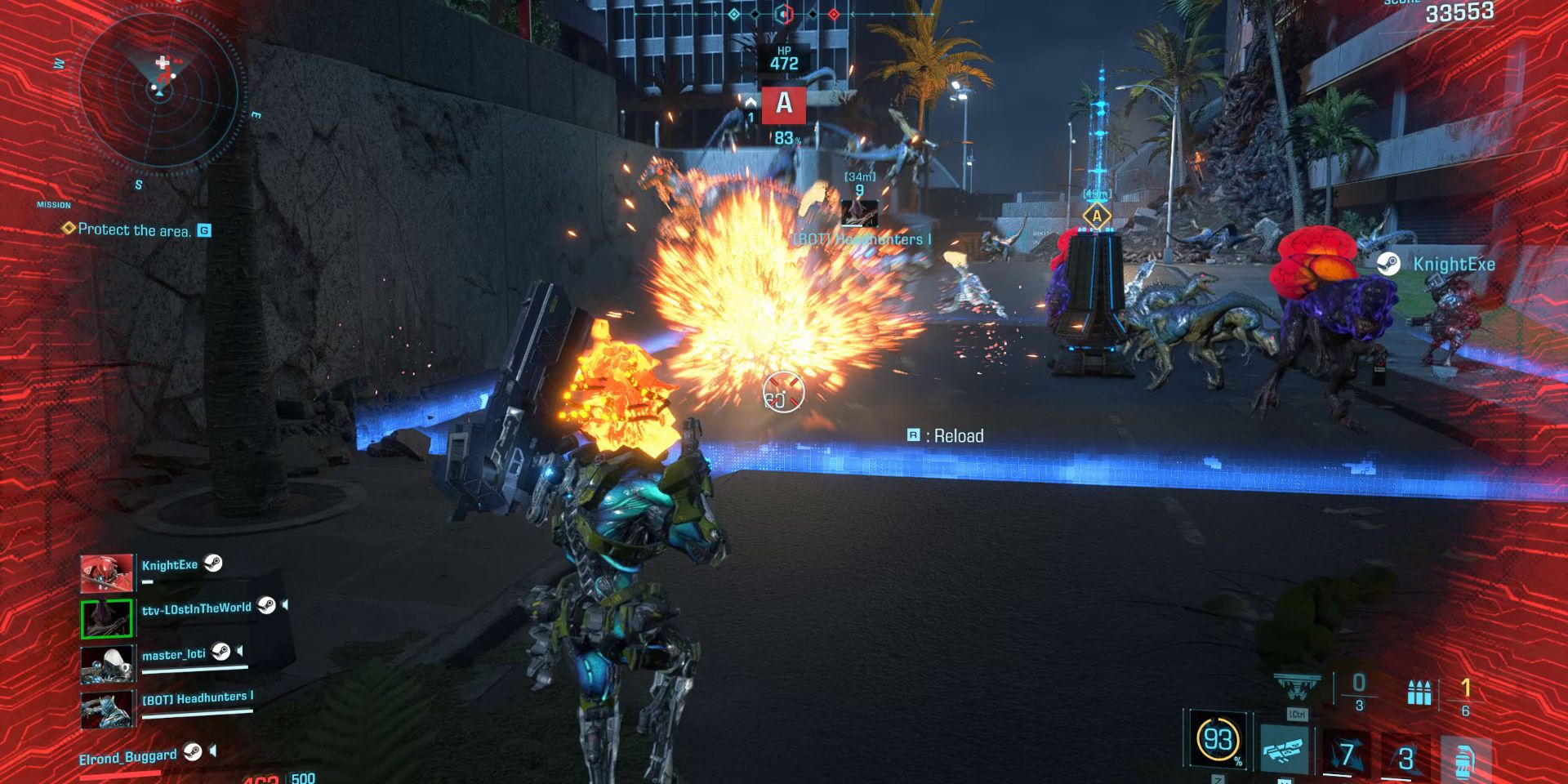 It's really strange, and again comes back to that arcade-machine quality of Time Attack mode or something, where you're competing with a 'run' rather than directly against an actual team. There are a few different objectives in these PvE segments, but really those matter less than the fact of culling massive waves of identikit dinosaurs. A good class distribution is important (the game will tell you if you're missing a certain class type in your team), as you throw down area-of-effect healing spells, launch explosives into the swarms, and engage in some appropriately Devil May Cry-lite enemy juggling as some of the melee characters. Sometimes, I'd struggle to know what was going on, as surfaces on the screen would suddenly shimmer with some kind of gold glyphs, before strange things would happen like hundreds of dinosaurs suddenly being frozen in place for a good several seconds while you continue to blast them.
In truth, the feedback on shooting dinosaurs isn't all that satisfying, based more based around numbers floating off their heads rather than actual flesh-shredding fun, and the PvE part of each match really feels like rather an over-elaborate warmup for the part where you actually get to face off against the other team.
After the PvE segment, you get to jump into the PvPvE part (which I can't help but feel should just be the standard means of playing the game). Here, the two teams of five try to fill a bar to 100 by collecting 'Generator' bits, killing each other, and completing other objectives, all the while with dinosaurs all around you. The intensity and complexity of Exoprimal definitely picks up at this point, though it all feels a little weightless. This feels like it should be a really high-mobility game, but sprinting is relatively slow, and the long cooldown on the dodge-dash move means that it's hard to be elusive. Time to kill is relatively high, but bullet-sponginess plus low mobility rarely make for the most compelling shootouts (though the presence of hundreds of dinosaurs obviously helps).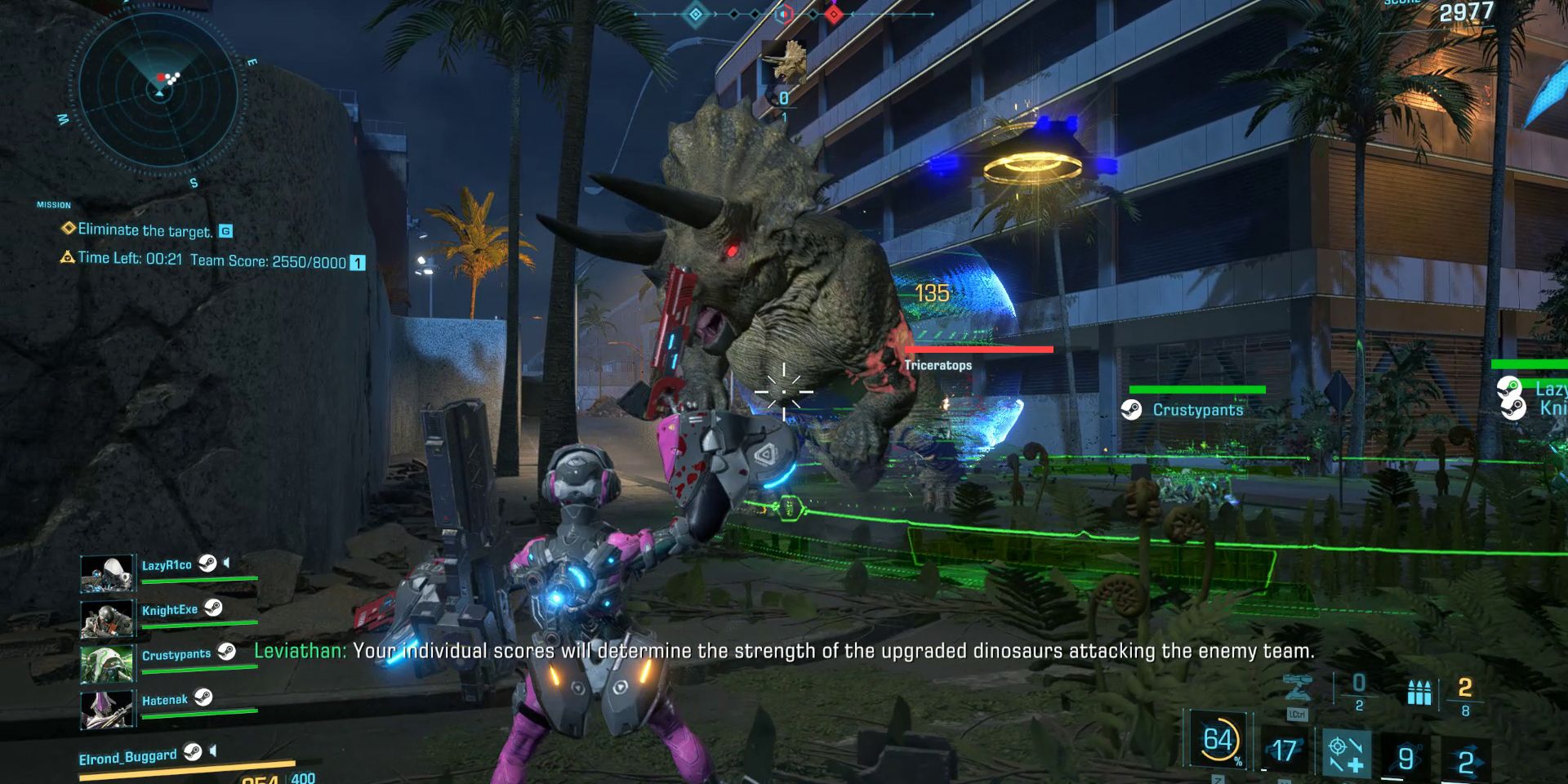 There are some wacky ideas in Exoprimal. At one point (again, no idea why), I picked up a package that let me take control of a T-Rex and stomp around the map picking up generator bits without the other dinosaurs attacking me, while playing as the diligent healer swung some skirmishes my team's way (not that you'd have known from the dire score I got at the end of the match), but what I played was of acquired taste and questionable quality.
At a time when online shooters with genuinely great ideas, like Lemnis Gate, are failing, it's hard to see where Exoprimal will find its place in the highly competitive shooter scene. But hey, if there are three things people love, it's mech suits, dinosaurs, and Japanese arcade stylings, so I may well be proven wrong, and its Day One release on Game Pass could help it find an audience.
NEXT: Why Do Most Games Still Get Climbing So Wrong?
Denial of responsibility!
Gamers Greade is an automatic aggregator of the all world's media. In each content, the hyperlink to the primary source is specified. All trademarks belong to their rightful owners, all materials to their authors. If you are the owner of the content and do not want us to publish your materials, please contact us by email –
[email protected]
. The content will be deleted within 24 hours.