Man, remember 2002? A character flapping their lips was considered realistic lipsync, Ubisoft could actually manage releasing a game, and J.K. Rowling had yet to make several horrifically anti-trans screeds, making anyone with nostalgia for Harry Potter feel super uncomfortable whenever looking back at them. Those were good days, weren't they? Well, that's why I'm here to talk about a game so old that Rowling isn't getting a dime for them, but perfect to revisit if you also grew up with the series before things got super problematic.
Developed by KnowWonder, a studio pretty much dedicated to making tie-in games for kid, Harry Potter & The Chamber of Secrets is their second iteration of a formula they started with Philosopher's Stone in 2001. KnowWonder understood that kids wanted action-packed, mysterious titles of their own, and the developers understood how to achieve that while staying family-friendly. Much of their back-catalog punches well above its weight (shout out to A Series of Unfortunate Events), but they never quite outdid their efforts with Chamber of Secrets.
This is the definition of a sequel done right.
Every original spell from the first game carries over, all the new ones add additional puzzle-solving and combat options, and the scenario design has gone up a notch, as you leap across giant chasms, discover all sorts of hidden rooms throughout the castle, and face down Tom Riddle in an epic final duel. While some less exciting moments get brushed over, there's still a healthy respect for proper pacing. The world peels away a little at a time, tantalizing you with what's hidden behind green slime molds, false walls, and jump pads that are in no way safe for children to be operating unsupervised. You've also got basic potion-making, though it's absolutely kept simple for kids.
The tedium of things like dodging Filch in the library from the first game are a distant memory. Hogwarts is bigger than ever, building upon the original layout from the first game but working in new additions with the bigger budget. Quidditch is still fairly simple – little more than a minigame where you kick another kid in the shins – but it looks fantastic for a game of its day. Wizard duels are a bit more engaging, sort of working like the world's simplest one-on-one shoot'em'up duel, but there's a wealth of opponents that reward you in increasing numbers of beans.
Yes, beans. Beans aren't just the musical fruit in Harry Potter & The Chamber of Secrets – they're also how you buy anything, including the world's most expensive broomstick from Ron Weasel's twin brothers. Don't think too hard about the logic there – this is still Harry Potter after all.
ALSO READ: Romancelvania Is A Monster Dating Game With Serious Bite
I'll admit there's some personal joy in one of my favorite childhood books getting adapted far more fully than in the accompanying movie. KnowWonder certainly draws some designs and presentation aspects from the films, but there's far more literary inspiration going on. Hogwarts feels like a real space, with good, campy voice acting. You get to really know the place and appreciate it.
Keep in mind that when this game released, the industry at large was convinced the PC market was a dying niche, especially for kids' games. If, like me, you had a Windows 98 computer salvaged from a local weather station as your only gaming option, then you really learned to make the most of the shovelware PC "ports" we typically received.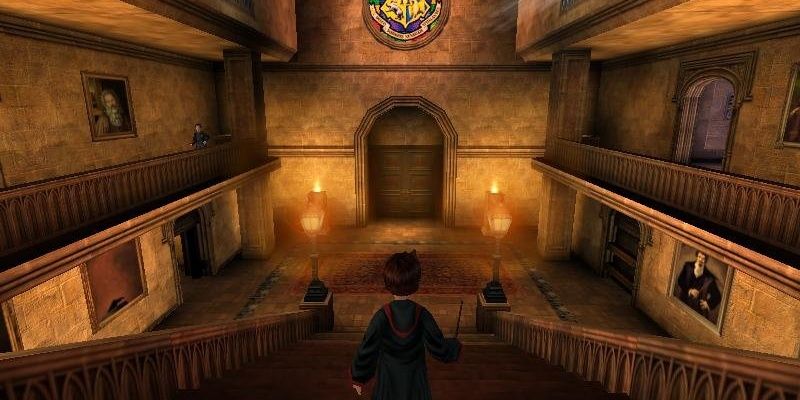 KnowWonder, meanwhile, were producing budget-priced gems like this, running circles around the competition. Though they only covered the first three Harry Potter stories, their trilogy has stood the test of time well enough there's even been a resurgence in popularity. It's gone so far that there's now people modding the castle to be even vaster than before, thanks in part to the game being based on the original Unreal Engine.
So if you really fancy waving a wand around at every wall to solve puzzles, befuddling a swarm of fire-farting crabs with magic trickery (yes, really, that's a thing), beating up the living embodiment of a genocidal lunatic who talks to snakes, and/or joining a children's fight club for food-based economics, there's no other game that can sate your strange, highly specific desires better than Harry Potter & The Chamber of Secrets for PC!
NEXT: Paper Cut Mansion is The Coraline Game We Never Got
Denial of responsibility!
Gamers Greade is an automatic aggregator of the all world's media. In each content, the hyperlink to the primary source is specified. All trademarks belong to their rightful owners, all materials to their authors. If you are the owner of the content and do not want us to publish your materials, please contact us by email –
[email protected]
. The content will be deleted within 24 hours.