Rumors have been swirling lately about the fate of Prime Video's A League of Their Own as the studio decides the fate of the modest yet beloved series. Earlier this month, information leaked that the series would be returning, but only as a four-episode miniseries that would serve as the ending, half of the first season's eight-episode run. Fans quickly took to the internet to share their frustration with the underwhelming news, and co-creator Will Graham has even shared his disappointment on Twitter, stating that although it is not confirmed, the news perpetuates the "racist and homophobic" narrative that "POC/Queer shows are niche or small." He also encouraged fans of the show to make their opinions heard if they want to see more episodes next season, as nothing is set in stone.
Far from a niche show, the series is an adaptation of the famous 1992 film of the same name, starring Geena Davis, Tom Hanks, and Rosie O'Donnell. It is apt for Graham to share his frustrations and point out the patterns that executives are playing into by axing a show that scored a 94% from critics on Rotten Tomatoes, claiming that its success was too niche. The series follows Abbi Jacobson as Carson Shaw, a talented young player who gives up on a quiet married life to pursue her dream of playing professional baseball. Along the way, she is introduced to an intersectional league of queer players and people of color all fighting to achieve their dreams in an industry dominated by cisgender, white men. With a strong premise, the first season exceeded expectations and received an outpouring of praise from fans, so why is its fate hanging in the balance? Here's why A League of Their Own deserves more than a four-episode final season.
RELATED: 'A League of Their Own' Co-Showrunner Says Renewal/Cancelation "Isn't Official"
'A League of Their Own' Explores Important Themes
While the original film looked at misogyny and feminism in the world of baseball, the series broke new ground by exploring the racism and homophobia that plagued the sport. Many of the characters' storylines delve into gender and sexuality, dissecting the complex nature of being queer in the 1940s. Carson, one of the main protagonists, struggles with coming to terms with her sexuality as she develops feelings for her fellow teammate, Greta (D'Arcy Carden), who also feels the immense pressure to hide her true self, even to the point of delusion.
It is important that this series not only includes queer characters but centers them. It also does a very nuanced job of showing the internal struggle of discovering your sexuality in a hostile social climate without making the characters self-hating or destructive in their relationships. The writing avoids many classic tropes around queer sexuality and creates rich, funny, and complex characters that people in the 21st century can relate to. It doesn't feel like a dated slice of queer history but reflects the ever-changing, ever-present identity of queer people in America.
'A League of Their Own' Embraces Diversity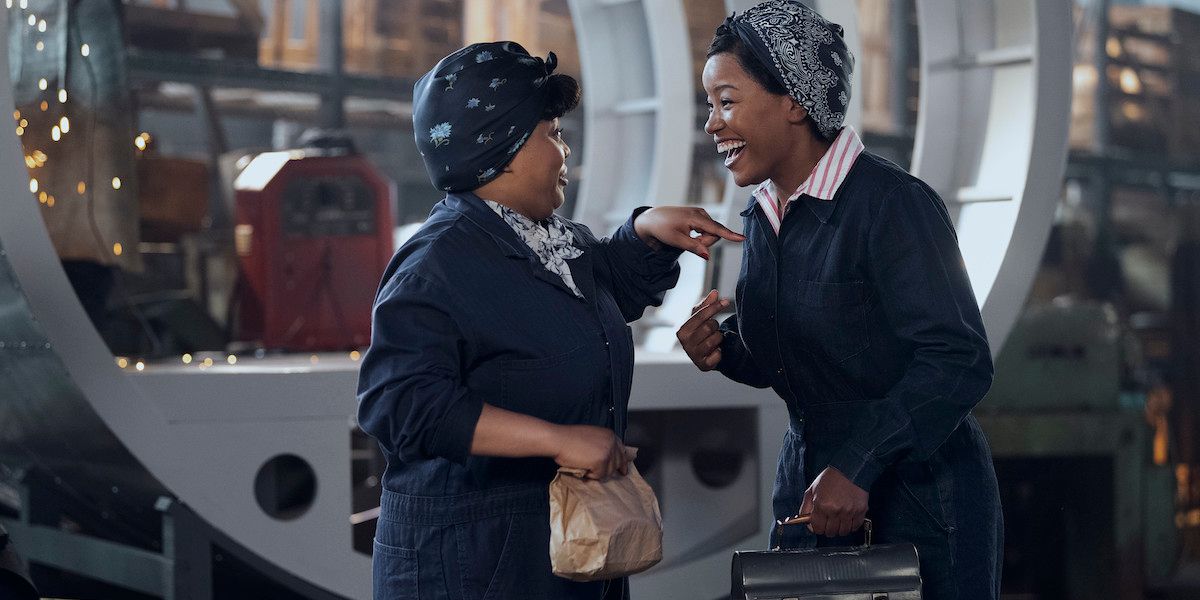 Also going a step beyond the film, the players in the league are diverse in all aspects, creating a true intersectional cast with storylines that explore how the events of the series impact different characters in different ways. Maxine's (Chanté Adams) character is an important lens for issues around race, and how people of color face different struggles around gender and sexuality in their community and have an extra barrier to overcome to find success and acceptance in the industry.
One of the most important parts of Maxine's journey is her exploration of her masculinity, especially through the relationship she builds with her estranged uncle Bertie (Lea Robinson), a trans man living happily with his wife. It is incredibly special to see their relationship in this particular setting. While the series is a comedy, it has powerful stories that resonate with a modern audience. It is so important to show that queer people have existed as long as anyone else, and the task of bringing these stories to the forefront through narratives like this is obviously not taken lightly by anyone involved.
Overall, this series is a big step forward for queer and POC representation in television, especially in period pieces. While it would be disappointing to only see these characters for four more episodes, they have still left an incredible impact on the culture, and as Graham says, "if you want to see more episodes or more seasons of this show, now is your moment. People are listening."
Denial of responsibility!
Gamers Greade is an automatic aggregator of the all world's media. In each content, the hyperlink to the primary source is specified. All trademarks belong to their rightful owners, all materials to their authors. If you are the owner of the content and do not want us to publish your materials, please contact us by email –
[email protected]
. The content will be deleted within 24 hours.