In many parts of Europe we have Spring in full bloom — the smell of cut grass, trees coming back to life, flowers opening up. It's all rather lovely, and of course we can both enjoy nature and play our Switch on the go; we need fresh air but, yikes, those backlogs won't play themselves.
To celebrate the season, Nintendo of Europe has kicked off its 'Spring Into Action' sale, which has over 1000 games in the promotion. If the thought of scrolling through all those listings makes you want to hurl your Switch into some nearby bushes then, fear not, because we've picked out the crème de la crème of the line-up for you.
These are all games that scored 9/10 or better in our reviews, so we think they're bloomin' marvellous. They're also all on discount until 8th May or later, so you have plenty of time to peruse and them pick up (although we can't take responsibility for any damage incurred to your bank account). We list the sale price (in GBP) for each game, plus the percentage discount.
Without further ado, let's take a look at 85 (yes!) discounted games you should really consider adding to your Switch collection…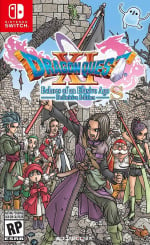 Publisher: Square Enix / Developer: Square Enix
Release Date:
27th Sep 2019 (USA)
/
27th Sep 2019 (UK/EU)
Sale Price: £24.99 (50% off)
Originally released for 3DS (and PS4) in Japan, the cumbersomely named Dragon Quest XI S: Echoes of an Elusive Age – Definitive Edition is one of the best games Square has ever put its name to, plain and simple — and this Switch release was a fine port, too. Featuring a heartwarming, well-paced narrative supported by a cast of fantastic characters, a dense and interesting overworld packed with dozens of hours of content, and one of the finest soundtracks we've heard in a JRPG, it all combines to make this an unforgettable modern classic. Whether you're a newcomer to the series (or genre) or a returning vet, do yourself a favor and get yourself a copy of Dragon Quest XI as soon as you're able. This is the epitome of a gift that keeps on giving, and it more than deserves a spot in your Switch library.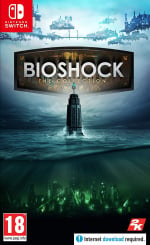 Publisher: 2K / Developer: 2K
Release Date:
29th May 2020 (USA)
/
29th May 2020 (UK/EU)
Sale Price: £15.99 (60% off)
BioShock: The Collection stands as yet another fantastic port in Switch's ever-growing library, combining three excellent games and all their DLC into one convincing package. Stable performance, engrossing narratives, fun gameplay, and lots of content make this one an easy recommendation, even if these releases show their age from time to time. If you're looking for a series of strong single-player shooters to pick up for your Switch, look no further — it's tough to go wrong here.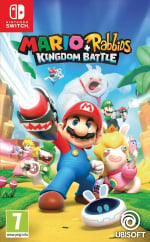 Publisher: Ubisoft / Developer: Ubisoft
Release Date: 29th Aug 2017 (USA) / 29th Aug 2017 (UK/EU)
Sale Price: £11.09 (63% off)
Mario + Rabbids Kingdom Battle is a must have for Switch-owning fans of turn-based tactical games. More importantly, such is the style and depth on offer that it's also ideal for those that haven't played much of the genre, for whom 'X-COM' sounds like a silly acronym from a war movie. It introduces the concept in the best possible way, and then utilises its own ideas for what becomes a smart, surprising and, at times, deliciously challenging experience. Even if you don't actually like the Rabbids, this game — and its familiar Mario cast and setting — is so good that Ubisoft's mascots become likeable. Well, almost.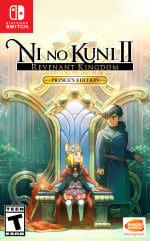 Publisher: Bandai Namco / Developer: Level-5
Release Date: 17th Sep 2021 (USA) / 17th Sep 2021 (UK/EU)
Sale Price: £24.99 (50% off)
Ni No Kuni II: Revenant Kingdom is an excellent action-RPG that's arrived on Switch in a fantastic, feature-packed port. Evan and Roland's antics across this game's sprawling world are stuffed full of great characters, exciting combat and adventuring and a kingdom building mechanic that's a delight to get to grips with. It looks and sounds every bit as good as its predecessor and, although the story might be a little more hit-and-miss here, we were completely hooked into this one from beginning to end. This is a sumptuously crafted adventure you won't regret diving into.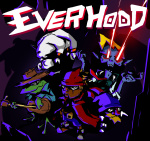 Publisher: Foreign Gnomes / Developer: Foreign Gnomes
Release Date: 4th Mar 2021 (USA) / 4th Mar 2021 (UK/EU)
Sale Price: £9.00 (33% off)
Everhood is one of the most memorable games we've played in recent years. A mad mix of RPG, rhythm action, kart racing and bullet-hell shmup, its utterly bonkers plot and weird cast of characters is reason enough to check it out, but the instantly accessible rhythmic combat will keep you hooked from the very first battle to the epic final boss encounter. Some may be put off by the minimal visual design and deliberately vague sequence of events, but for those after something a bit different, Everhood delivers originality and unique gameplay in spades and absolutely deserves a place in your Switch library.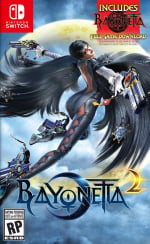 Publisher: Nintendo / Developer: PlatinumGames
Release Date: 16th Feb 2018 (USA) / 16th Feb 2018 (UK/EU)
Sale Price: £33.29 (33% off)
Despite coming from the previous generation, Bayonetta 2 shines brightest on Nintendo Switch. It runs without a hitch at 60fps, looks incredible in both TV and tabletop modes, and offers an addictive free-flowing combat formula that sprinkles in platforming, light exploration and a ridiculous story to create something that you simply need to experience. If you've never played it for before, you're in for a treat. If you've already played it, it's even more bewitching as a handheld gem.
Also on discount is its predecessor; after almost a decade Bayonetta is starting to show her age, but that doesn't stop this hyperactive melee/shooter action mashup from being one of the most rewarding and memorable cult hits of the previous generation.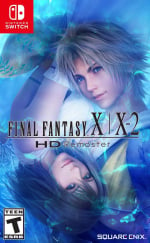 Publisher: Square Enix / Developer: Square Enix
Release Date: 16th Apr 2019 (USA) / 16th Apr 2019 (UK/EU)
Sale Price: £22.49 (50% off)
Final Fantasy X / X-2 HD Remaster is a package of two fantastic games; the 2001 original and its 2003 direct sequel. FFX is probably not the most straightforward introduction for new players, but it presents one of the most engaging worlds in any of games in the series and its Conditional Time-Based battle system (which here replaced the standard Active Time Battles of previous entries) spiced things up nicely. With upgraded visuals and audio and all the content from the 'International' version of the game, Switch is a great place to play X. If you've got the requisite dozens of hours to spare, of course.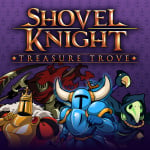 Publisher: Yacht Club Games / Developer: Yacht Club Games
Release Date: 3rd Mar 2017 (USA) / 3rd Mar 2017 (UK/EU)
Sale Price: £23.39 (35% off)
Shovel Knight was excellent in vanilla form, but Treasure Trove includes absolutely everything that developer Yacht Club has created for the game since its Kickstarter success back in 2013. That includes the extra campaigns Plague of Shadows, Specter of Torment and the more recent King of Cards, plus multiplayer brawler Showdown which further increases the attractiveness of an already incredibly compelling package. These games are fantastic odes to the glory days of 8-bit(+) platforming, and having the complete Shovel Knight experience in one spot makes this a must-have for Switch owners – especially those that have so far failed to dig into this game and its add-ons. Strike the earth!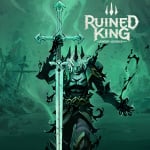 Publisher: Riot Forge / Developer: Airship Syndicate
Release Date: 16th Nov 2021 (USA) / 16th Nov 2021 (UK/EU)
Sale Price: £16.24 (35% off)
Even if you don't want anything to do with League, we would highly recommend that you give Ruined King: A League of Legends Story a shot; this is a spectacular JRPG that consistently demonstrates mastery of all the ingredients needed to make a great entry in the genre. The core campaign is just long enough to feel satisfying, there are dizzying amounts of character customization, and the combat system is one of the finest we've encountered in a turn-based RPG in a long time. If you're a fan of RPGs, you'd be doing yourself a great disservice to pass on Ruined King. Even if you're a newcomer to the genre, we'd still absolutely encourage you to give this a punt; Ruined King will do a great job of showing you.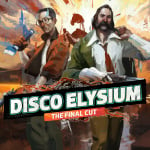 Publisher: ZA/UM / Developer: ZA/UM
Release Date: 12th Oct 2021 (USA) / 12th Oct 2021 (UK/EU)
Sale Price: £23.39 (35% off)
Disco Elysium's narrative and dialogue, which is already wonderfully compelling on its own, was given a massive boost thanks to the excellent voice acting introduced for the Final Cut. The gameplay features a host of branching paths for you to explore, and while the slow, methodical approach may turn a few people off, this is nevertheless one of the most well-told stories in any medium from the last few years. The performance issues at the time of our review slightly took the shine off things, but even with them present, Disco Elysium: The Final Cut is a triumph and stands as one of the best RPGs available on Switch.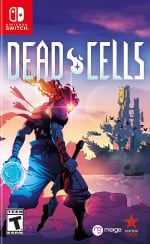 Publisher: Motion Twin / Developer: Motion Twin
Release Date: 7th Aug 2018 (USA) / 7th Aug 2018 (UK/EU)
Sale Price: £13.49 (40% off)
Dead Cells is a masterclass in excellent roguelite design, mixing together nonstop intense action sequences, gorgeous vistas, and an addictive loop of unlocks and rewards into a beautiful experience that no Switch owner will want to go without. There's dozens, if not hundreds, of hours of content available here, and though some sense of repetition can creep in every now and then, it's remarkable how fresh Dead Cells can stay through all those hours. This game is a blast to play, full of visual splendor, and packed with things to do; don't miss out on this one, it's a must-buy.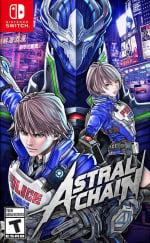 Publisher: Nintendo / Developer: PlatinumGames
Release Date: 30th Aug 2019 (USA) / 30th Aug 2019 (UK/EU)
Sale Price: £33.29 (33% off)
With its amazing visuals, fantastic presentation, varied gameplay and deep, rewarding combat, Astral Chain could well be PlatinumGames' most accomplished game yet. It mixes detective work with exhilarating battle sequences that are inventive, challenging and – perhaps most importantly – breathtakingly cool. The complexity of the game's myriad systems may prove intimidating for some players, but the inclusion of a co-op play and the ability to automate many of the mechanics via the 'Unchained' mode means that even complete newcomers can still enjoy the ride. Astral Chain isn't just one of the Switch's stand-out hits – it's one of Platinum's best video games.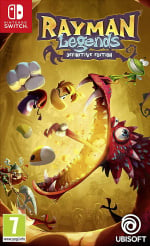 Publisher: Ubisoft / Developer: Ubisoft
Release Date: 12th Sep 2017 (USA) / 12th Sep 2017 (UK/EU)
Sale Price: £7.49 (75% off)
Despite its 'Definitive Edition' moniker, the vast majority of what you get in the Switch version of Rayman Legends has been seen in every other edition. The only truly new features here are a complete character roster for the first time and a tournament mode for its football mini-game. That's not to say it's a bad game, though; that couldn't be further from the truth. Rayman Legends is one of the best plumber-free platformers ever made, and its budget price means if you haven't played it before, the Switch version is the perfect opportunity to jump in.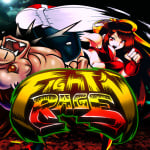 Publisher: Blitworks / Developer: Seba Games Dev
Release Date: 26th Sep 2019 (USA) / 26th Sep 2019 (UK/EU)
Sale Price: £8.09 (55% off)
Fight'N Rage is one of the must-own action games on Nintendo's console. Its surprisingly deep and satisfyingly weighty combat engine combined with three strong and varied player characters and a host of cleverly-designed enemies elevate it above the usual button-mashing experience perhaps expected of entries in this genre. It's got an excellent arcade mode that branches off in various directions as you make your way to the final boss battle, as well as a ton of unlockable modes and extras to keep you coming back for more. Whether you're a learned fan of old-school beat 'em ups or you just like pummelling the life out of mutant punk pussycats and monkeys dressed as Bruce Lee, you owe it to yourself to experience what Sebastian Garcia has created here; it's easily one of the best beat'em ups we've played.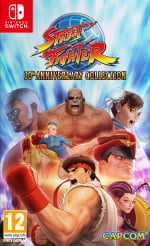 Publisher: Capcom / Developer: Digital Eclipse
Release Date: 29th May 2018 (USA) / 29th May 2018 (UK/EU)
Sale Price: £9.99 (60% off)
While some of the games included in this compendium are rendered somewhat superfluous by the fact that far superior sequels and updates exist alongside them, Street Fighter 30th Anniversary Collection remains an utterly essential purchase for any self-respecting fighting game fan. This is like a history lesson in how the one-on-one fighter has evolved over time. The experience really benefits from using the right controller; while the Joy-Con are perfectly acceptable when you're hosting impromptu local multiplayer challenges and the Pro Controller's D-Pad is passable, we found the 8bitdo SN30 and SN30 Pro pads to be much better options, and if you have an arcade stick that's compatible with Switch, now is the ideal time to dig it out – this is fighting game nirvana, pure and simple.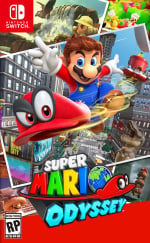 Publisher: Nintendo / Developer: Nintendo
Release Date: 27th Oct 2017 (USA) / 27th Oct 2017 (UK/EU)
Sale Price: £33.29 (33% off)
There's an argument to be made that Mario 64 never got a 'true' sequel until this game: Sunshine's FLUDD muddied the waters with its feature set; the Galaxy games cleverly eschewed large open worlds for impeccably crafted planetoids designed around specific gameplay elements; 3D Land and 3D World were deliberately constrained with linear design to attract players of 2D Mario into the third dimension.
Super Mario Odyssey was a return for the 'sandbox' style of Mario adventure players had been pining for since 1996, and it delivers everything you could want and more. Cappy's capture abilities keep things fresh in an game which blends all sorts of mechanics and art styles into an improbably coherent, compelling whole. It really shouldn't work, but the mastery of its execution makes the realistic human-style inhabitants of New Donk City, the anthropomorphic cutlery of Luncheon Kingdom, and the big-eyed cute characters of Mario and his Mushroom Kingdom clan feel like they belong side-by-side in the same game. A delight in every way.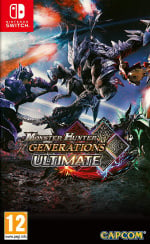 Publisher: Capcom / Developer: Capcom
Release Date: 28th Aug 2018 (USA) / 28th Aug 2018 (UK/EU)
Sale Price: £13.49 (70% off)
Monster Hunter Generations Ultimate may be a 'last-gen' rerelease unlike the very current-gen Monster Hunter Rise, but it more than makes up for it by being a sort of 'greatest hits' collection of the high points of the series, giving you hundreds of hours of content to play through. Couple this with the HD visuals, easy to use multiplayer, and the ability to play the full experience on the go, and you've got a game that will easily appeal to both veterans and newcomers alike. It may not necessarily represent the future of the series, but Monster Hunter Generations Ultimate is an utterly fantastic experience in its own right and a worthy follow up to the 3DS original, and one that no Switch owner will want to be without.
Denial of responsibility!
Gamers Greade is an automatic aggregator of the all world's media. In each content, the hyperlink to the primary source is specified. All trademarks belong to their rightful owners, all materials to their authors. If you are the owner of the content and do not want us to publish your materials, please contact us by email –
[email protected]
. The content will be deleted within 24 hours.