Entertainment
10 Characters Who Should Run For Office (& Who Their Running Mate Would Be)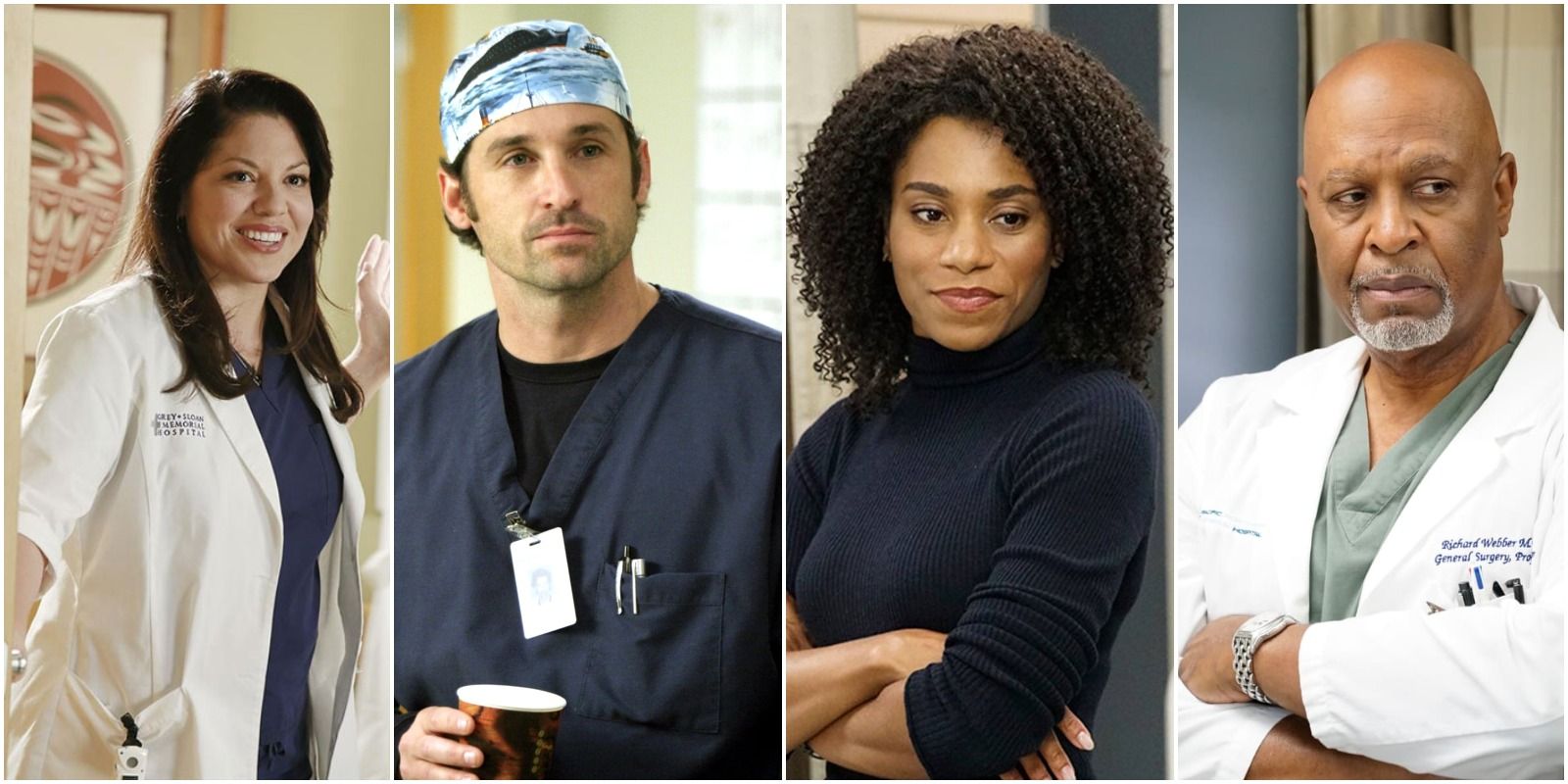 Politics can be such a messy game at times. In the eyes of the voters, the candidates must be perfect. But who is these days? The characters of Grey's Anatomy are not to be considered saints but to some of their patients, they are as close to perfection as they will find.
RELATED: Grey's Anatomy: The Best & Worst Things To Happen To The Main Characters
So here's a question to contemplate for fans. If the surgeons of Grey-Sloan Memorial were politicians instead, which ones would make the best President or running mate? Since there is a mixture of different personalities and friendship groups, there would only be a select few who would gain enough votes and support.
20

Derek Shepherd (President)
Although Derek has left the show, there has not been another surgeon on Grey's Anatomy with his skill set. While Meredith is tabbed as the lead character, Derek has more than held his own. Let's not forget that he had been the Head of Neuro and the Chief of Surgery at one point. Derek just has a presence that commands respect from others, making him a great candidate.
19

Andrew Deluca (Vice President)
Pairing Deluca with Derek makes perfect sense. While DeLuca hasn't been given the opportunity to prove what a great leader he may be, he has more than proven to be an excellent doctor and carer. He goes out of his way to reassure his patients and make them feel safe, listens to their worries, and even offers wise advice to his friends. If he was paired with Derek, the two would make an unstoppable team.
18

Meredith Grey (President)
A husband and wife combo leading an office is appealing only if it's Derek and Meredith. However, Meredith would be more than capable of stepping out on her own because of how well she can command an audience. Not to mention how head-strong, self-sufficient, and determined she is. If there was a first female president, Meredith Grey would be her.
17

Lexie Grey (Vice President)
This ticket has to be done. Sisters running the country would be a great choice by the voters. Lexie has followed behind Meredith since arriving at Seattle Grace. Despite being in the shadows, Lexie has proven that she could hold her own in debates, life, and in the OR.
16

Miranda Bailey (President)
Miranda just commands respect wherever she goes. Her presence screams "listen and follow me." As great as Meredith, Cristina, and Alex are, everything they learned was due to the knowledge passed on by Miranda. As the Chief of Grey Sloan Memorial, Miranda has been handling the leadership role for years already.
15

Richard Webber (Vice President)
Richard Webber is great at many things except when it comes to his personal life. He's stubborn and prone to make terrible judgment calls, which is why he had to retire as Chief of Surgery. However, that's not to say that he wouldn't make a good running mate.
RELATED: Grey's Anatomy: 10 Main Characters' Biggest Flaws & Best Redeeming Qualities
As everyone knows, Webber has proven to be a great asset to the hospital. Whenever there is a pressured situation, Webber is one of the few who stays calm and maintains peace. When his students panic, he eases their fears and guides them to the right path. With Bailey at the helm, Webber would be more than happy to run as her mate.
14

Cristina Yang (President)
To be the President, a person must be focused. Politics is all business and so is Cristina. She's blunt, driven, and best of all, Cristina comes second to no one. With Yang leading the ticket, if she makes a promise to fix something, you can best believe she will go the distance until the goal is met.
13

Tom Koracick (Vice President)
All personal feelings aside, most fans will agree that Tom Koracick is one of the best surgeons to ever walk the halls of Grey-Sloan Memorial. While he is exactly the greatest leader, he has proven to be excel in other areas.
On several occasions, he has proven to be a reliable person. He has also provided his colleagues with sage advice when they were at a crossroads. With Cristina and Tom on the same team, their opponents should be prepared for a fight.
12

Alex Karev (President)
Alex is a born leader. While he may take risks and go against the grain, those are some of the traits people look for when backing someone. Alex has proven that he can lead, not one, but two hospitals. It would be easy for Alex to have an entire political party behind him. He speaks and people listen.
11

Maggie Pierce (Vice President)
There are a few people who would fit on the ticket with Karev. But what he needs is a person not scared to go against the grain with him. Maggie is intelligent, one of the smartest to ever walk in Grey Sloan Memorial, and would be the perfect candidate to put beside Karev.
10

Catherine Fox (President)
Meredith, Bailey, and Cristina are some of the strongest women on Grey's Anatomy. But Catherine Fox, she's in a different league. She's been running things most of her life and has done so successfully. While a bit harsh at times, Catherine cares about the bottom line and getting the job done. All great qualities for a leader.
9

Jackson Avery (Vice President)
Not too many understand Catherine. If there was one person who can deal with her stubbornness, and do so with grace and yet with a stern voice of reason, it's her son Jackson Avery.
RELATED: Grey's Anatomy: 10 Main Characters' Arcs, Ranked Worst To Best
Jackson has a spotty past of his own but he's a hard and dedicated worker. As Vice President, he would shine even in his mother's shadow.
8

Amelia Shepherd (President)
Amelia is getting everything together. Her story alone would make the headlines and would surely get the people behind her. She has overcome so much that leading a nation would seem like a piece of cake. That Shepherd bloodline is a strong one.
7

Jo Wilson (Vice President)
Jo Wilson is the next Meredith Grey. Her work ethic is top-notch and it is believed that she is quickly on the rise to be another award-winning surgeon. But Jo is not ready to take on the role of a full-fledged leader just yet. Give her time to develop. Just like Meredith, Jo is coming into her own.
6

Callie Torres (President)
Callie, despite her rocky start on the show, she's a leader. She can be a bit emotional but when a tough decision has to be made, Callie is not one know to run from anything tough. Before she left, Callie was also seen to be an important pillar of the hospital, with many of the residents and attendings coming to her for life and professional advice.
5

Arizona Robbins (Vice President)
Callie is not one to take lightly and there is only one person with the compassion and patience to deal with her "Alpha" mindset. Opposites attract and for this political race, Callie will need someone beside her she can trust and not want to run over. Arizona would prove to be the ideal candidate as she is not afraid of battles and will fit the best beside Callie.
4

Teddy Altman (President)
Teddy gets a bad reputation for her decisions outside of Grey Sloan Memorial. Yet, this shouldn't be a reason for fans wanting to count her out. Teddy has proven to be a great leader and mentor (especially with Cristina) and her tours in the Army would go over well with the voters.
3

Izzie Stevens (Vice President)
Viewers can say whatever they want about Izzie Stevens. But one thing they can never say is that she was predictable. Izzie may have been a difficult intern but she was smart and dedicated. Her running the country is not such a bad idea. Izzie does have her morals and did generally care about her patients' well-being. This alone would resonate deeply with voters.
2

Mark Sloan (President)
Mark Sloan can have his moments where he doesn't see things as clearly as others. But in the OR, Sloan was a magician. He took control of situations and had people in the right places. His personal life was not as solid but Sloan could be labeled a good leader, especially if fans take into consideration that one episode where he was Chief and help Derek with his surgery.
1

George O'Malley (Vice President)
George O'Malley had his faults for sure. However, before his death, George wasn't just the stumbling intern he was when he first walked in the halls of Seattle Grace. He grew to become very assertive and confident. He also proved to generally care about his patient's well-being. If Mark and George were paired together, they could have learned a thing or two about each other.
NEXT: Grey's Anatomy: The Worst Episode Of Every Season (According To IMDb)

Next
The Big Bang Theory: Howard's 5 Best Pieces Of Advice (& His 5 Worst)

About The Author
Follow us on Google News
Read original article here